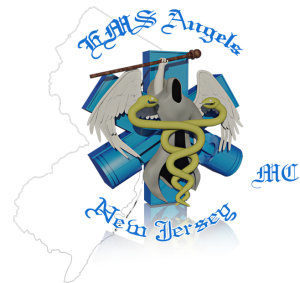 Welcome to the offical website of EMS ANGELS MC Central Jersey Chapter 9. We are proud members of EMS ANGELS M.C. located in Newark, New Jersey. Our goal is to explore and ride the many scenic roads of our beautiful country. Our chapter meets monthly at the Finderne First Aid & Rescue Squad in Bridgewater Township, New Jersey. All are welcome to attend our meeting held on the first Friday of each month at 7pm.
The EMS ANGELS motorcycle club has been a personal inspiration. Through personal commitment, our determined Brotherhood, charity work. Our positive outreach program which includes all EMS personnel and others, we, as an organization have aided our community by our persistent involvement and positive accomplishments. Our goal, as a EMS ANGEL MC is to enhance our community, expand our enjoyment and ride with the upmost pride.
EMS ANGELS MC has been founded to promote the enjoyment of owning as well as riding Motorcycles. As a member of the EMS Angels we will solemnly pledge to abide by the constitution and by-laws and to fulfill our obligations to the best of our ability in rendering aid to the sick and injured, regardless of race, color or creed; to stand ready at all times to render aid to those in need; to conduct ourselves as good members and to promote the ideals of this organization, we further pledge to uphold the Constitution of the United States of America.
Each member, while wearing the EMS ANGELS MC colors or participating in EMS ANGELS MC connected events such as meetings, rides or any other activies, will display and maintain conduct of courtesy and respect towards fellow members and others outside of EMS ANGELS MC. All members shall obey all traffic rules while participating in EMS ANGELS MC connected events. All members should make a consicous effort to promote drug and alcohol free motorcycle riding in the interest of safety and integrity of the club.